Nassau County Pond Add-Ons
Accent Driftwood
Driftwood is ideal for concealing hard-to-hide water feature components or adding a realistic decorative accent to any location. Driftwood can effectively hide filter components such as difficult-to-conceal edges of skimmers and waterfall filters. We store all different sizes and shapes of driftwood, allowing you to pick the piece that suits your needs the best! Pricing varies per piece.
Pond Aeration System
An aeration system effectively oxygenates ponds, helping to keep water healthy, clean, and clear. Every process that occurs in your pond is dependent on oxygen. This is especially important in warmer temperatures or at night when plants are not converting sunlight into oxygen. Aeration can also be used during cold winter months to keep a small hole open in the surface of the pond, aiding in de-gassing.
UV Clarification System
A UV clarification system effectively clears unsightly green water due to algae blooms. Its technologically advanced 28-watt T5 high-output UV bulb maximizes the performance of the clarifier, while the narrow contact chamber increases its effectiveness significantly. Theinternal swirl sleeve optimizes UV clarification by increasing the contact time between the algae and UV bulb, increasing UV efficiency up to 50%.
Auto Dosing System
Maintaining optimum water quality has never been easier. An Automatic Dosing System for your pond adds a choice of specially formulated water treatments, eliminating the guesswork and routine of manually adding water treatments. The Automatic Dosing System is dependable, extremely quiet and provides treatment options for a wide variety of issues in water features.
RGB Accent Lighting
An RGB LED lighting system is the perfect way to accent key features in your pond and waterscapes. Once installed, they are they can be adjusted easily with a wireless remote to insure you never have to get your hands wet! They run off a 12 volt transformer which makes them low voltage, which means minimal power draw.
Decorative River Rocks
Decorative River Pebbles are ideal for enhancing a wide variety of water features and gardens. These unique decorative stones are hand-polished, smooth, and pre-washed, making them the perfect choice for you to complete your project. Each stone measures approximately three to five inches in size.
Pond Powerhead
A pond powerhead is an innovative, low-voltage pump designed to create water movement and eliminate stagnant areas in ponds. This pump does not require any additional plumbing. A pond powerhead is great for solving problems with stagnant water and unsightly buildup of decaying debris, providing circulation, surface agitation, and aeration.
Pond Landscape Lighting
No matter what type of water feature you have, you can enhance its beauty well into the evening hours with the addition of Landscape LED lighting. Customize your pond and garden nighttime experience with adjustable spotlights or waterfall lights. Illuminate your fountain with beautiful LED Fountain Accent Light. You'll enjoy the natural warm color produced in the evening for hours of enjoyment after the sun goes down.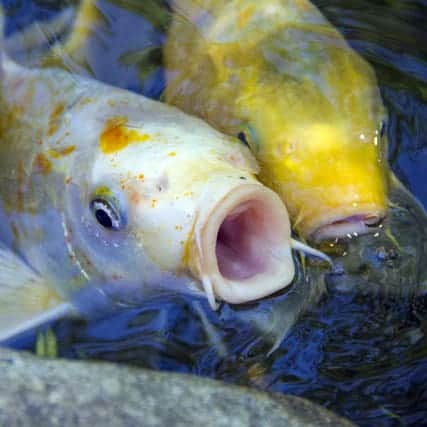 Select Pond Fish
Description Coming Soon!
Fire Insert for Fountainscape
Self-contained water features and fire fountains have been gaining in popularity in recent years. A fire fountain is yet another way you can enjoy the beauty and elegance of flickering fire and flowing water. Best yet, you can fill the reservoir with citronella oil to keep those pesky bugs away. You'll enjoy the soft sound of trickling water as the flame burns brightly in the center of the bowl. Constructed of durable GFRC and available in three sizes.
IonGen System
Say goodbye to string algae with a IonGen System! Ideal for use in Ponds, Pondless Waterfalls, and other decorative water features, the IonGen effectively kills algae without the use of traditional liquid chemicals.The system helps to control algae growth throughout the entire system (up to 25,000 gallons) by using a microprocessor that sends a signal to its ion-producing probe. The system is compatible with water containing fish and plants and typically costs less than $1 per month in electric costs.
More Products Coming Soon!!!
Stay Informed about more products coming soon!