To get an estimate
for your project,
fill out the form, or simply
Backyard Waterfalls in Port Washington, NY 11050
Benefits of Waterfall Fountains for Your Backyard in Port Washington, NY
Have you ever seen backyard waterfalls in Port Washington, NY? Maybe a friend of yours has one in their backyard. Or, maybe you have only seen them in movies. There are large, luxurious backyards with a garden pond and an outdoor waterfall. These characters have a backyard that you could only dream of having. Or, maybe you saw it in your dreams. After all, who doesn't want a gorgeous water feature in their backyard?
While all this sounds more like fantasy than reality, you can find waterfall fountains for your backyard that will suit it perfectly and for a reasonable price. Does that seem too good to be true? Luckily, you can have a garden designed specifically for you in your Nassau County backyard without having to give up an arm and a leg!
However, are there any benefits of a water garden or a smaller waterfall? What can backyard waterfalls do to benefit your health, the environment, or your backyard? And do they do anything other than look pretty and make your friends jealous? When you choose Scott Anderson Design, we ensure you receive a waterfall design that will provide many benefits. In our guide below, we'll explain the health, environmental, and backyard benefits of adding a pond or waterfall.
Scott Anderson Design has a large portfolio of backyard waterfalls and ponds we've created for many of our happy customers in the past. Once you read our guide, look at our portfolio to find the garden pond of your dream.
Health Benefits
Believe it or not, you will notice many physical and mental health benefits when you build a pond. In the modern world, there are many things that can cause stress or anxiety. Maybe you're behind at work, or your responsibilities as a parent are piling up. No matter the stressor in your life, taking a step back to sit at the edges of the pond can help you relax.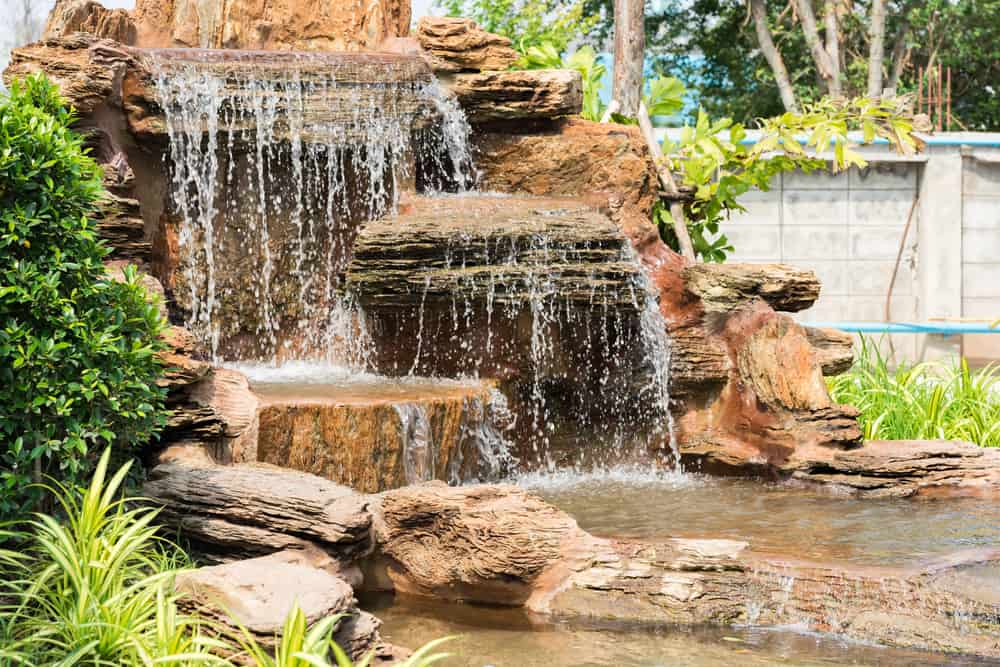 Look at the water moving in the wind, feel the flat stone at the sides of the pond, and take a deep breath. The sounds of nature, the pond water moving, and the hum of a smaller waterfall will help you relax.
What do many people do when they feel stressed? They go on YouTube and turn on calming water sounds. Why use YouTube when you can create a pond in your Port Washington, NY backyard? Waterfall fountains for your backyard can help you relax after a long, stressful day.
However, there are physical health benefits of backyard waterfalls as well. Do you love sitting in nature, but your allergies make it insufferable? Then you should consider adding a water feature. Believe it or not, these features can attract allergens and dust, thus filtering the air. You can enjoy your Nassau County backyard if you have backyard waterfalls for more than one reason.
Environmental Benefits
There are also environmental benefits of water fountains for your backyard. If you love nature, why wouldn't you want to attract it to your backyard? You can create a sanctuary for creatures by adding a small pond to your backyard. Dragonflies, birds, your pets, and other small wildlife will love the pond water.
Plus, having a gorgeous pond and garden will inspire you to take care of nature. Why would you want to protect the environment if you never enjoy what Port Washington, NY has to offer? If you live near the city, you may forget how beautiful nature is.
You can build a pond with a natural-looking pond liner, so all you see is the shallow water and the fish swimming in it–if you add fish, that is. You can fall in love with nature again with backyard waterfalls in Nassau County.
Backyard Benefits
Finally, a pond can benefit your backyard as well. Are you planning on selling your home at some point? While you may not want to spend a lot of money just to sell your Port Washington, NY house, the waterfall can benefit you in the long run.
Many potential homeowners want a unique home and backyard, so why wouldn't they love waterfall fountains for the backyard? Make the pond more appealing by adding luxury features and flexible liners. Your home will sell before you know it.
As you can see, there are many benefits of waterfall fountains for your backyard. If you want to invest in a quality waterfall, call Scott Anderson Design at 516-729-5668 today.
---
Some information about Port Washington, NY
Port Washington is a hamlet and census-designated place (CDP) in the Town of North Hempstead in Nassau County, on the North Shore of Long Island, in New York, United States. The hamlet is the anchor community of the Greater Port Washington area. The population was 15,846 at the 2010 census.
Much of the Port Washington area was initially settled by colonists in 1664, after they purchased land from the people of the Matinecock Nation.
In the 1870s, Port Washington became an important sand-mining town; it had the largest sandbank east of the Mississippi and easy barge access to Manhattan. Some 140 million cubic yards of local sand were used for concrete for New York skyscrapers (including the Empire State and Chrysler buildings), in addition to the New York City Subway. In 1998, the sand mines were redeveloped as Harbor Links, which is a golf course for North Hempstead residents.
In 1930, Port Washington tried to incorporate itself as a city, which would have had the same boundaries as the Port Washington Union Free School District's, excluding Sands Point, which had already incorporated itself as a village. This plan ultimately failed when the bill was killed after Baxter Estates, Flower Hill, and Manorhaven incorporated themselves as villages in order to retain home rule of their respective areas.
Learn more about Port Washington.
Useful links for Port Washington, NY
Directions from Port Washington, NY to Scott Anderson Design
---
Here are some remodeling-related links: